I came to Dublin in January 2014 to study English and there I stayed for 20 months before I moved to the UK to work as a missionary volunteer at Stanborough Park Church, in Watford, England.
"…the God of Israel, says: 'The jar of flour will not be used up and the jug of oil will not run dry until the day the Lord sends rain on the land.'" 1 Kings 17:14 (NIV)
After one year, I decided to renew my visa for one more year in Ireland. So I left my friend's apartment and started to pay rent, plus bills, plus a new school and the fee for a new visa, which drove me for a delicate financial situation.
I started to wonder if I had done a good decision to stay in Ireland and going through for this moment. One month before I was in Brazil and I had been offered a good job opportunity, but I denied because I thought I could be more useful for the Kingdom in Dublin.
So, for one week, I had oat with water for breakfast and pasta for lunch and dinner. I had to save money. My job payment was just enough to pay the rent and nothing else. Actually, after taking the tithe out, even the rent couldn't be paid.
But God made miracles:
My bosses paid me the double that month.


2. A girl that had just arrived in Dublin and barely knew me, said that she had been blessed that week and God told her to bless someone, so she did. She gave me an envelope and had some money inside. Well, at the end, I paid my rent, my bills (including the bus for the month) and bought some food.
God had just made a miracle in my life but I was worried about the next month. How weak and doubter I was being?
"Therefore do not worry about tomorrow, for tomorrow will worry about itself. Each day has enough trouble of its own." Matthew 6:34  (NIV)
Last year, we organized the first Brazilian Seventh Day Adventist Camp in Ireland. I didn't want to go, I still need to save money. But people convinced me to go since I was one of the leaders.
Pastor Samuel Neves was the special guest, maybe you know him. While Sam was talking on Saturday I was feeling inspired by his words and thinking that I should do something like that.
On Saturday eve, after his last talk, I went to talk to him and in five minutes talk, he had offered me to come to England and helping him in a project.
I couldn't believe! For real? Me, in England? As a missionary? You know, I never thought in my life that I could be a missionary. But well, here I am.
I came to Stanborough in first October 2015, one year ago and planning stay a bit more. I have no idea what are the God's plan for my future, but I know that He has done amazing things in my life so far.
Since I left Brazil, I had been taking photos for the Irish Mission, for Mission Caleb in Switzerland, doing some work for the South Swiss Federation, for the CELP and of course, to Stanborough Park Church.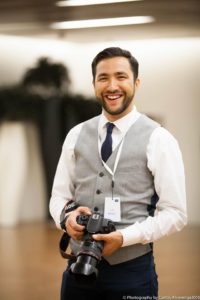 This isn't a story about me. This is a story how God is amazing opening new doors for something bigger than our own purpose.
My part in this story is just to be grateful for everything that He has done to me and let rest in His almighty hands. But still, sometimes I'm worrying about the future. Maybe you are also struggling about something, but we all need to remember how great is our God.
God opened the Red Sea for His people. God opened the skies and sent food. God opened the doors to the Promised Land. God opened the jail for Paul. So, doesn't matter what are you facing, God is able to open any door to you.
Sometimes life gets hard. But trust in God and let Him open new doors to your life. Look back as well, and I'm sure you will see how many times He already opened it and be thankful to Him for everything He has done to you.